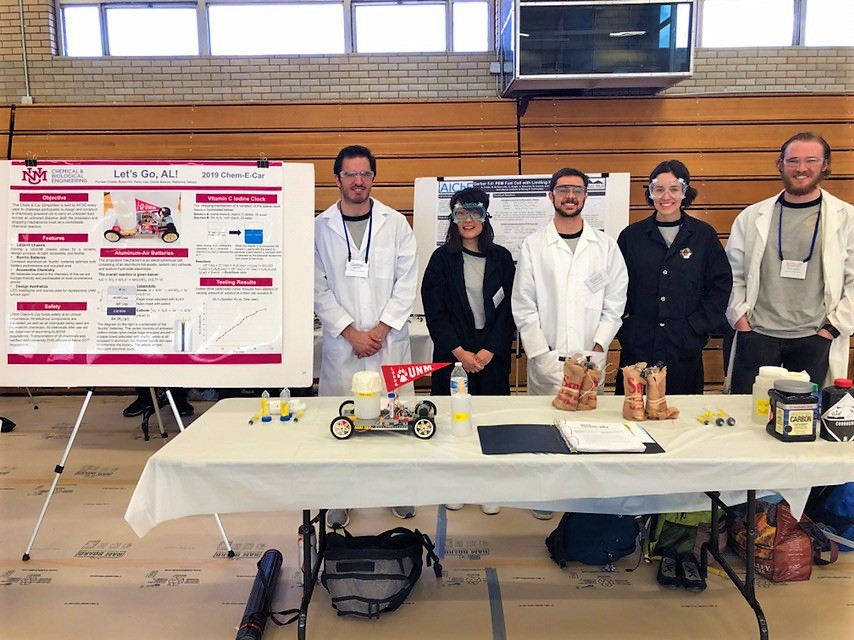 Member Profiles
Ryan Hill (rchill96@unm.edu)
Ryan is a senior in the CBE department who served as the 2018-2019 Car Team Captain. Ryan has always been interested in renewable energy technology which drove him to learn about batteries and fuel cell technology. He took an electrochemical engineering class and is working on an electrodialysis project at work, both of which have given him the ability to effectively understand battery technology and how to build an efficient battery for the car.
Rose Lee (roselee3@unm.edu)
Rose is a sophomore who does research with fuel cells and batteries, and plans on going into the Materials concentration. She has always loved art and creativity, which led her to design the poster and emphasize car aesthetics. She also contributed to the success of the iodine clock stopping mechanism. She has lots of crazy ideas and has big plans for the future car teams!
Forrest Cheek (fcheek@unm.edu)
Forrest is a senior in the Biomedical concentration. He was always great with people, so he handled all the financial aspects (i.e. SGAO funding, ordering through ASUNM, etc) and external communications. He also handled the safety information, and specialized in the iodine clock stopping mechanism.
Rebecca Tafoya (rebeccat1@unm.edu)
Rebecca Tafoya is a sophomore in chemical engineering with a concentration in semi-conductor manufacturing. She takes special interest in the Arduino design of the car because of her Computer Science minor. She enjoys learning about the interface where chemistry meets electrical design. Because of her ties to the environment, she pays special attention to the environmental safety of the car design. 
Derek Nelson (dwnelson@unm.edu)
Derek is a senior. He has always loved building things and has 2 very cute dogs.